ATEX & IECEx certifications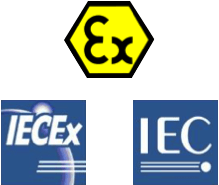 STid has developed a certified RFID reader range to meet the two key industry requirements - security and reliability.
Our solutions are compliant with all the international standards of the market: ATEX (EN60079) & IECEx certifications; European Directives (99/92/EC and 94/9/EC). They are well suited for all your people identification applications in explosive and isolated environments.
The EX II 2 GD IP66 explosion-proof casing is well-suited to the chemical, petrochemical and nuclear industries, among others.
Marking
EC type Examination certificate: BKI 08 ATEX 0048
Approved type: GUB Ex II 2 GD
(G: gas / D: Dust)
II 2G Ex d IIB T6 Gb
II 2D Ex tb IIIC T85°C Db IP66
Applications in harsh environments
Our solutions are especially well suited for all your identification and asset tracking applications requiring explosion proof equipment: chemical and petrochemical industries, in refineries or in nuclear power plants, mining…