Easy configuration of identification modes
Your smartphone, the STid Mobile ID® application and Bluetooth® Architect® Blue reader transform your hand into a card that you always have on you.
Select your preferred identification mode to make access control secure and much more instinctive. You can adjust the read distance for each mode,
to close or remote, with just a few clicks of the mouse.
Card
Mode




by placing your smartphone in front of the reader.

Slide
Mode




by placing your hand close to the reader without taking out your phone.

Tap Tap
Mode




by tapping your smartphone twice in your pocket for near or remote opening.

Remote Mode




by using your smartphone as a remote control.

Hands-free
Mode




by simply passing in front of the reader.

Voice
Control




by using the voice command on your iPhone (iOS).
See identification modes


STid Settings is a virtual configuration card wallet which saves cards in your smartphone for configuring readers with ease.
Secure and unlimited storage of configuration cards
Unlimited configurations of the read distances for identification modes
"Get Configuration" tool to display information on reader configuration
Once you have downloaded the free app from AppStore or PlayStore, you can load your virtual SCBs via our SECard programming kit or our Web platform.
Easily configure the read distances for each identification mode using your smartphone, as many times as you want.
Download the app for Android™ et iOS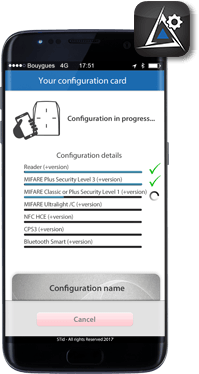 Part numbers
Including a standard reader
| | |
| --- | --- |
| TTL Wiegand / Data&Clock version: | STKIT-BT-TTL-V3.5 |
| TTL Wiegand / Data&Clock version + training: | STKIT-BT2-TTL-V3.5 |
| RS485 version: | STKIT-BT-V3.5 |
| RS485 version + training: | STKIT-BT2-V3.5 |
| | |
| --- | --- |
| OSDP™ version: | STKIT-BT-TTL-V3.5-OSDP |
| OSDP™ version + training: | STKIT-BT2-TTL-V3.5-OSDP |
Including a keypad reader
| | |
| --- | --- |
| TTL Wiegand / Data&Clock version: | STKIT2-BT-TTL-V3.5 |
| TTL Wiegand / Data&Clock version + training: | STKIT2-BT2-TTL-V3.5 |
| RS485 version: | STKIT2-BT-V3.5 |
| RS485 version + training: | STKIT2-BT2-V3.5 |
| | |
| --- | --- |
| OSDP™ version: | STKIT2-BT-TTL-V3.5-OSDP |
| OSDP™ version + training: | STKIT2-BT2-TTL-V3.5-OSDP |