SE2 - Architect® 13.56 MHz core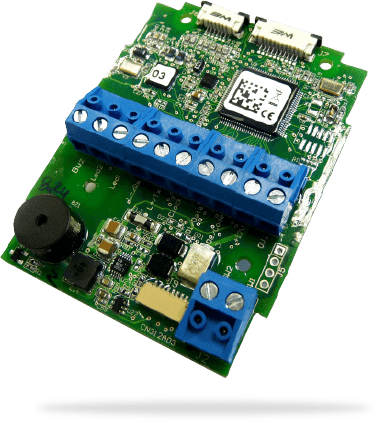 Independently upgrade the functionalities of your readers
and reduce stock management costs!
This module reads mobile Bluetooth® (Low Energy)
and NFC (HCE) technologies, all MIFARE® chips (Ultralight® &
Ultralight® C, Classic EV1, Plus, DESFire® EV1 & EV2, etc.),
the CPS3 card used by French healthcare professionals and
those used by French ministries (AGENT and CIMS cards, etc.).

Part numbers:
| | |
| --- | --- |
| Read only | |
| CSN TTL Wiegand / Data Clock: | SE2-R31-A/103-xx |
| Pre-configured - TTL Wiegand / Data Clock: | SE2-R31-A/PC2-xx |
| TTL Wiegand / Data Clock: | SE2-R31-A/PH5-xx |
| Secure / Secure Plus - TTL Wiegand / Data Clock: | SE2-S31-A/PH5-xx |
| Secure - RS232: | SE2-R32-A/PH5-5AB |
| Securise - RS485: | SE2-R33-A/PH5-7AB |
| Secure / EasySecure decoder - RS485: | SE2-R33-A/PH5-7AA |
| Secure / Secure Plus - RS485 : | SE2-S33-A/PH5-7AB |
| Secure / Secure Plus / EasySecure decoder - RS485: | SE2-S33-A/PH5-7AA |
| Secure / EasyRemote decoder - Transparent - RS485: | SE2-S33-A/PH5-7BB |
| | |
| --- | --- |
| Read / Write | |
| Secure - RS232: | SE2-W32-A/PH5-5AA |
| Secure - RS485: | SE2-W33-A/PH5-7AA |
| Secure - RS485 - RemoteSecure decoder: | SE2-W33-A/PH5-7BB |
| Secure - RS485 - RemoteSecure 4 readers decoder: | SE2-W33-A/PH5-7BC |
| Secure SSCP2 CSPN compliant - RS485: | SE2-W33-A/PH5-7AD |
| CSN OSDP - RS485: | SE2-W33-A/103-7OS |
| Secure OSDP - RS485: | SE2-W33-A/PH5-7OS |

| | |
| --- | --- |
| Read only | |
| Secure - TTL: | SE2-R31-L/LE2-xx |
| Secure - RS232: | SE2-R32-L/LE2-5AB |
| Secure - RS485: | SE2-R33-L/LE2-7AB |
| | |
| --- | --- |
| Read / Write | |
| Secure - RS232: | SE2-W32-L/LE2-5AA |
| Secure - RS485: | SE2-W33-L/LE2-7AA |
Benefits
Simple upgradable solution
Up to 40% fewer products to stock
Easy to install