Access control with the smartphone
Discover the 6 modes of identification for a unique user experience!
Virtual cards promote acceptance of and compliance with the Security Policy of businesses, industries and governments.
STid Mobile ID® is so user-friendly that it makes identification instinctive.
Choose your favorite identification mode and make your access options both secure and much more intuitive!
Card
Mode




by placing your smartphone in front of the reader.

Slide
Mode




by placing your hand close to the reader without taking out your phone.

Tap Tap
Mode




by tapping your smartphone twice in your pocket for near or remote opening.

Remote Mode




by using your smartphone as a remote control.

Hands-free
Mode




by simply passing in front of the reader.

Voice
Control




by using the voice command on your iPhone (iOS).
See identification modes

Smart Fonctions


Scramble Pad: protects access against the fraudulent use of identification codes by the random display of the keys.

logo, instructions, personalized messages, images, or keypad are displayed by a simple touch wake-up of the screen.

Advanced function buttons: using the OSDP™ and SSCP® protocol: alarm activation, time attendance...

Doorbell: tactile button used to activate a doorbell via the relay built into the reader.
Welcome to high security

STid is the first RFID manufacturer to have received First Level Security Certification (CSPN). It's a recognition of our unique know-how, the technological and security expertise that are implemented in your access architecture, whether new or existing.
The Architect® Blue reader uses the latest MIFARE® contactless chip technologies with new data security mechanisms.
All public encryption algorithms can be used (3DES, AES, RSA, SHA, etc.), which are recommended by official data security agencies (such as the French national agency ANSSI).
The Architect® Blue series uses an EAL5+ cryptoprocessor to improve protection and privacy.
End-to-end security control
With top-level security certification (CSPN) from the French National Agency for the Security of Information Systems (ANSSI), STid secures and protects your data.
In addition to an integrated cross-level quality process within the company, we have implemented a constant auditing procedure with a number of external security audits (PHONESEC).
Download the audit certificate
Securing smartphone Apps & users

Encryption and obfuscation methods

Anti-reverse engineering development methods

Multi-factor authentication

Security audit

ANSSI compliant secure communication

Data authenticity and confidentiality ensured throughout the communication chain

Use of cryptographic algorithms comply with international government standards

Secure sensitive data storage

Secure storage using encryption and obfuscation methods

EAL5+ storage in the reader

Create your own scalable configuration
The Architect® Blue series is intuitive and dynamic, made up of 6 interchangeable modules, easy to connect to a smart common RFID core & Bluetooth®.
The easy and cost saving modularity concept allows you to keep control of the access security management.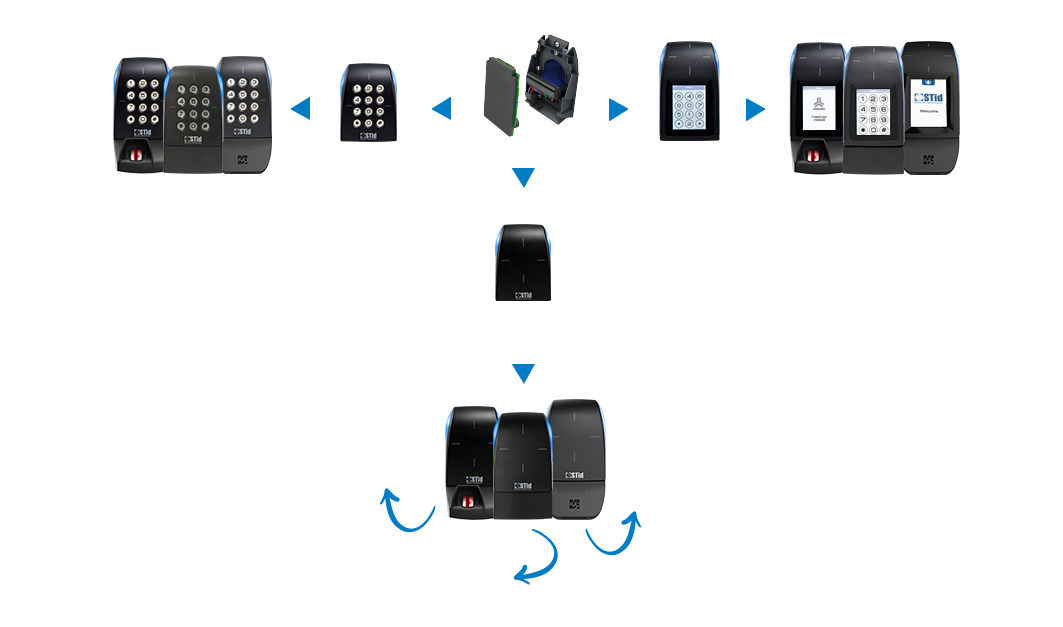 "Skin effect" new customization technology