Manage with ease a multi-factor identification
Both reader and keypad, the device allows a dual-identification by combining card and/or PIN code identifications.
Thanks to its various operating modes (card AND key or card OR key), you can use the keypad to identify people or to activate additional functions (activation of the intrusion alarm…).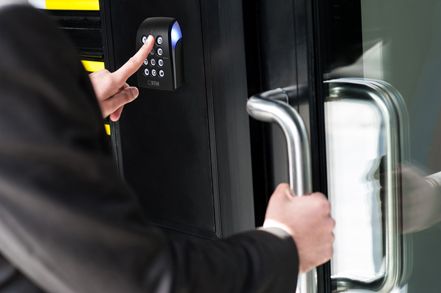 Access control with the smartphone
Discover the 5 modes of identification for a unique user experience!
Virtual cards promote acceptance of and compliance with the Security Policy of businesses, industries and governments.
STid Mobile ID® is so user-friendly that it makes identification instinctive.
Choose your favorite identification mode and make your access options both secure and much more intuitive!
Card
Mode




by placing your smartphone in front of the reader.

Tap Tap
Mode




by tapping your smartphone twice in your pocket for near or remote opening.

Voice
Control




by using the voice command on your iPhone (iOS).

Remote Mode




by using your smartphone as a remote control.

Hands-free
Mode




by simply passing in front of the reader.

See identification modes
Welcome to high security

All public encryption algorithms can be used (3DES, AES, RSA, SHA, etc.), which are recommended by official data security agencies (such as the French national agency ANSSI). The reader uses the latest MIFARE® DESFire® EV2 contactless chip technologies with new data security mechanisms:
Secure Messaging EV2: secure transaction method based on AES-128 with protection against interleaving and replay attacks.
Proximity Check : improved protection against relay attacks.

It uses an EAL5+ crypto processor to improve data protection and privacy.
Create your own scalable configuration
The Architect® Blue series is intuitive and dynamic, made up of 6 interchangeable modules, easy to connect to a smart common RFID core & Bluetooth®.
The easy and cost saving modularity concept allows you to keep control of the access security management.