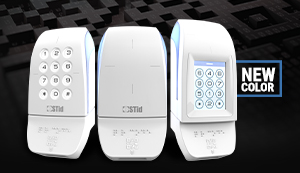 The Architect® Blue multi-technology RFID, NFC, and Bluetooth® Reader is combined with a QR Code module to enable the identification of employees and visitors.
STid Architect® simplifies the management of all your access (employees, day-contractors, visitors...) in offices, car-parks or any building with our multi-technology RFID, NFC and Bluetooth Reader.
With Architect®, there's no need to add more access control systems to welcome your visitors or your invitees! The QR Code module integrates perfectly with your existing STid Reader for a simple and aesthetical setup. Our Reader is available in white/black to perfectly coordinate with your architects interior colour schemes!
One unique access-point for your physical, virtual or QR Code credentials!
COMPETITIVE
Fast Reading
All Conditions: Operates Internal/External Sunlight and Dark
HEAVY-DUTY
IP65 level
Reinforced, Vandal-Resistant IK08 Certified
INTEROPERABLE
Easy Integration with all Access Control Systems
Backward Compatible and Interoperable