BE.WEAPON is a hardware and software solution specially developed to secure and simplify the management of armories for the various army corps and all police forces (Army, Navy, Air Force, Municipal Police forces, National Police force, special forces, private security officers, etc.).
Download the flyer See the video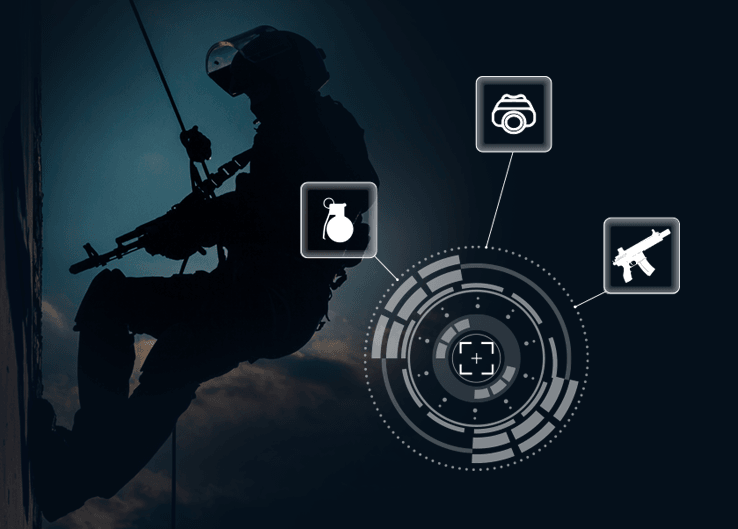 BE.WEAPON tracking solution
BE.WEAPON enables armory managers to automatically and securely manage inventories and check-in / check-out operations for weapons and equipment ( E.G. bulletproof vests, flash-balls, tasers, munitions, helmets, handcuffs, batons, tonfas, binoculars, night-vision goggles, etc.).


BE SURE


Secure
your armories

Electronically identify and authenticate each officer before handing over any equipment
Automatically link each item to the identified officer
Quickly draw up comprehensive and reliable inventories and daily equipment allocation logs (in accordance with current regulations)
Stay in control of your data by hosting BE.WEAPON on your servers

BE FREE

Easy digital transition
for your armories

Made-to-measure installation and integration of the solution within your armories
Customized support for equipment "tagging" and team training
Direct and remote access to all management information by centralizing data on your servers (secure access for authorized personnel)

BE SMART


Make your armories
smart and connected

Improve armory performance
Optimize human and equipment flows within your armories
Improve intervention response times
Reduce waiting times during equipment distribution and returns
Optimize equipment maintenance processes
Remove stock discrepancies and equipment losses in armories
How it works ?
I secure my equipment and my officer in 3 steps

I computerize my inventory operations
BE.WEAPON solution
Fixed unit

For managing equipment check-in and check-out from a fixed location in an armory.

Under some configurations, two fixed units can be incorporated (one for equipment check-out and another for equipment return) at two different locations in the armory.

Touchscreen computer
Fixed UHF reader
Officer & RFID card authentication reader

Mobile unit

For mobile management of equipment check-in and check-out within an armory.

The mobile unit can also be used for carrying out occasional inventory operations in armories.

Touchscreen tablet
Portable UHF reader

Tag range

Each equipment item must be identified with a UHF tag specially developed for tracking equipment within armories.

These tags are small and come in different models for use on all types of equipment (harnesses, PPE, weapons, vests, binoculars, goggles, laser designators, carabiners, etc.).

They are designed to withstand extreme outdoor usage conditions such as high temperature variations, corrosion, etc.

BE.WEAPON tag range: SquareTag, PuceTag, CrossTag, ThinTag, LinTRAK®
Marseille Police Force selected STid for weapons management and security