Your smartphone becomes
your access key!
STid Mobile ID® moves access cards onto smartphones, alongside or instead of traditional RFID cards.
Download the flyer Consult the page Tools & Support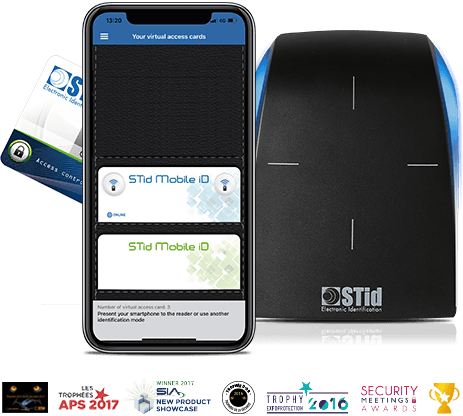 Towards a world without constraint
With increasing mobility in businesses, a technological revolution is underway, based on interconnected resources, shifting access control
towards new uses and equipment. Smartphones offer new possibilities for interacting with access control readers.
98%
of employees consider the access control
as a constraint.
24%
of companies will use
mobile access control by 2022.
70%
of employees use their smartphone
in the workplace.
5 identification modes for a unique experience
Virtual cards promote acceptance of and compliance with the Security Policy
of businesses, industries and governments.
STid Mobile ID® is so user-friendly that it makes identification instinctive.
Choose your favourite identification mode and make your access options both secure and much more intuitive.
| | | | | |
| --- | --- | --- | --- | --- |
| Badge mode | Slide mode | Tap Tap mode | Remote mode | Hands-free mode |
Slide. Come in!
| | |
| --- | --- |
| | Your smartphone turns your hand into a badge you have with you at all times. This action initializes the communication with the smartphone which will grant the access, even if the device is in standby mode or on a phone call. |
Tap. Come in!
Open the door by tapping twice on your smartphone, even if you're in the middle
of a hands-free call or if your smartphone is tucked away in your pocket.
Press. Come in!
| | |
| --- | --- |
| | Activate the remote mode to control your access points remotely. |
Other modes
Badge mode

Place your smartphone in front of the reader as a standard card.

Hands-free mode

Simply pass in front of the reader without other action.
Various virtual cards
STid Mobile ID® receives and saves an unlimited number of virtual access cards on your smartphone.
Download the app for Android™ and iOS
STid offers three access cards types to meet your various needs
CSN STid Mobile ID® free

ID supplied on installation of the app
Multi-mode identification:



CSN+ STid Mobile ID®+

ID supplied on installation of the app
Multi-mode identification:



Virtual access card Secure+

Private ID
Fully configurable security parameters
Multi-mode identification:
Offline & Online architectures
Offline and Online architectures allow organizations to remain fully autonomous and independent in access rights management.
STid is the only company to provide a hosting service in your structure.
Web services
Our tools allow a perfect integration of STid Mobile ID® in your access control system

Connection to your
Access Control System

STid Mobile ID® Portal is directly integrated in your access control system software.

SDK
STid Mobile ID®

For third-party apps on AndroidTM and iOs

Customize the graphical user interface to adapt the App to your brand image.

On-Premise
Hosting

Host our platform within your own infrastructure with easy-to-integrate tools.
End-to-end security control
With top-level security certification (CSPN) from the French National Agency for the Security of Information Systems (ANSSI), STid secures and protects your data.
In addition to an integrated cross-level quality process within the company, we have implemented a constant auditing procedure with a number of external security audits (PHONESEC).
Download the audit certificate
Securing smartphone Apps & users

Encryption and obfuscation methods

Anti-reverse engineering development methods

Multi-factor authentication

Security audit

ANSSI compliant secure communication

Data authenticity and confidentiality ensured throughout the communication chain

Use of cryptographic algorithms comply with international government standards

Secure sensitive data storage

Secure storage using encryption and obfuscation methods

EAL5+ storage in the reader


STid Settings is a virtual configuration card wallet which saves cards in your smartphone for configuring readers with ease.
Secure and unlimited storage of configuration cards
Unlimited configurations of the read distances for identification modes
"Get Configuration" tool to display information on reader configuration
Once you have downloaded the free App from AppStore or PlayStore, you can load your virtual SCBs via our SECard programming kit or our Web platform.
Easily configure the read distances for each identification mode using your smartphone, as many times as you want.
Download the App for Android™ and iOS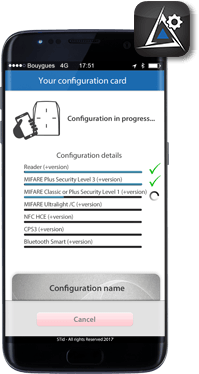 Multi-technology reader range
RFID MIFARE DESFire® 13.56 MHz, Bluetooth® (Low Energy), NFC technologies.
Most secure series on the market
Scalable and modular
Easy to install
See the Architect® Blue series