Welcome to high security

MA1S/BT offers the best size / safety ratio. It combines ultra compact design and identification security
of the user.
It use the latest MIFARE® contactless chip technologies with new data security mechanisms.
All public encryption algorithms can be used (3DES, AES, RSA, SHA, etc.), which are recommended
by official data security agencies (such as the French national agency ANSSI).
The MA1S/BT Secure series uses an EAL5+ cryptoprocessor to improve protection and privacy.
End-to-end security control
With top-level security certification (CSPN) from the French National Agency for the Security of Information Systems (ANSSI),STid secure and protect your data.
In addition to an integrated cross-level quality process within the company, we have implemented a constant auditing procedure with a number of external security audits (PHONESEC).
Download the audit certificate
Secure stockage

Encryption and obfuscation methods

Anti-reverse engineering development methods

Multi-factor authentication

Security audit

Secure communication

Data authenticity and confidentiality ensured throughout the communication chain.

Use of cryptographic algorithms comply with international government standards

Multi-factor authentication

Encryption and obfuscation methods

EAL5+ storage in the reader

Easy to install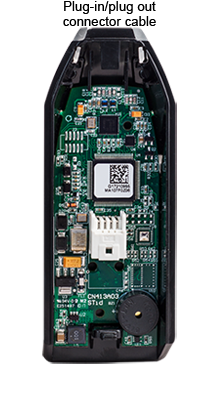 MA1 Blue is a mullion RFID reader specially designed for installation in small spaces, for example on door frames or narrow flushbox mounting.
Its small size and intelligent design make it easy to incorporate into any installation environment with no spacer required (included on metal).
The plug-in/plug-out connector cable and the round mounting holes make the installation easier