Create user cards
SECard can create physical or virtual user cards via the STid Mobile ID® mobile application. This function is passwordprotected and several levels of access rights are provided in the software. The software is flexible and user-friendly, with the option of importing existing lists and generating multiple programming formats.

Create reader configuration cards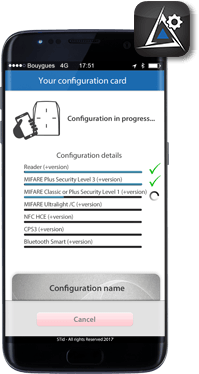 SECard lets you create Secure Configuration Badges (SCB) for your readers. Physical or virtual SCBs store and download reader settings (interfaces, communication protocols, data format, physical protections, LEDs, buzzer, keypad, screen, biometrics, etc.) and security keys.

Create your secure key bundles
The Secure Key Bundle (SKB) can be used to generate a table of keys to be loaded into programming/encryption devices.
The encryption device can be used by a system or software suite, which will not need to know your keys to dialogue with the cards.