ATEX & IECEx certifications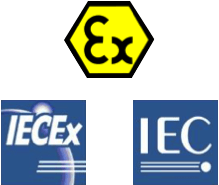 STid has developed a certified RFID reader range to meet the two key industry requirements - security and reliability.
Our solutions are compliant with all the international standards of the market: ATEX (EN60079) & IECEx certifications; European Directives (99/92/EC and 94/9/EC). They are well suited for all your people identification applications in explosive and isolated environments.
The EX II 2 GD IP66 explosion-proof casing is well-suited to the chemical, petrochemical and nuclear industries, among others.
Marking
EC type Examination certificate: INERIS 13 ATEX 0021X
Approved type: GUB Ex II 2 GD
(G: gas / D: Dust)
II 2G Ex d IIB T6 Gb
II 2D Ex tb IIIC T85°C Db IP66
Applications in harsh environments
Our solutions are especially well suited for all your identification and asset tracking applications requiring explosion proof equipment: chemical and petrochemical industries, in refineries or in nuclear power plants, mining…
The simple solution for enhanced access
The high-performance identification - up to 10 m / 33 ft* - ensures comfort and reliability
for fluid vehicle access, without compromising safety.
The ATX4 reader offers the highest security levels by encrypting and signing your identifiers
to protect access credentials against copying and damage using methods recognized
by independent organizations specialized in information security (ANSSI).
Scalability & ease of installation
With its four remote and independent antennas, the ATX4 reader can be adapted to all your long-distance identification requirements, such as the control of fleets of diverse vehicles (cars, trucks, motorcycles, etc.) or the identification of wide or multiple lanes (up to 4 adjacent lanes).